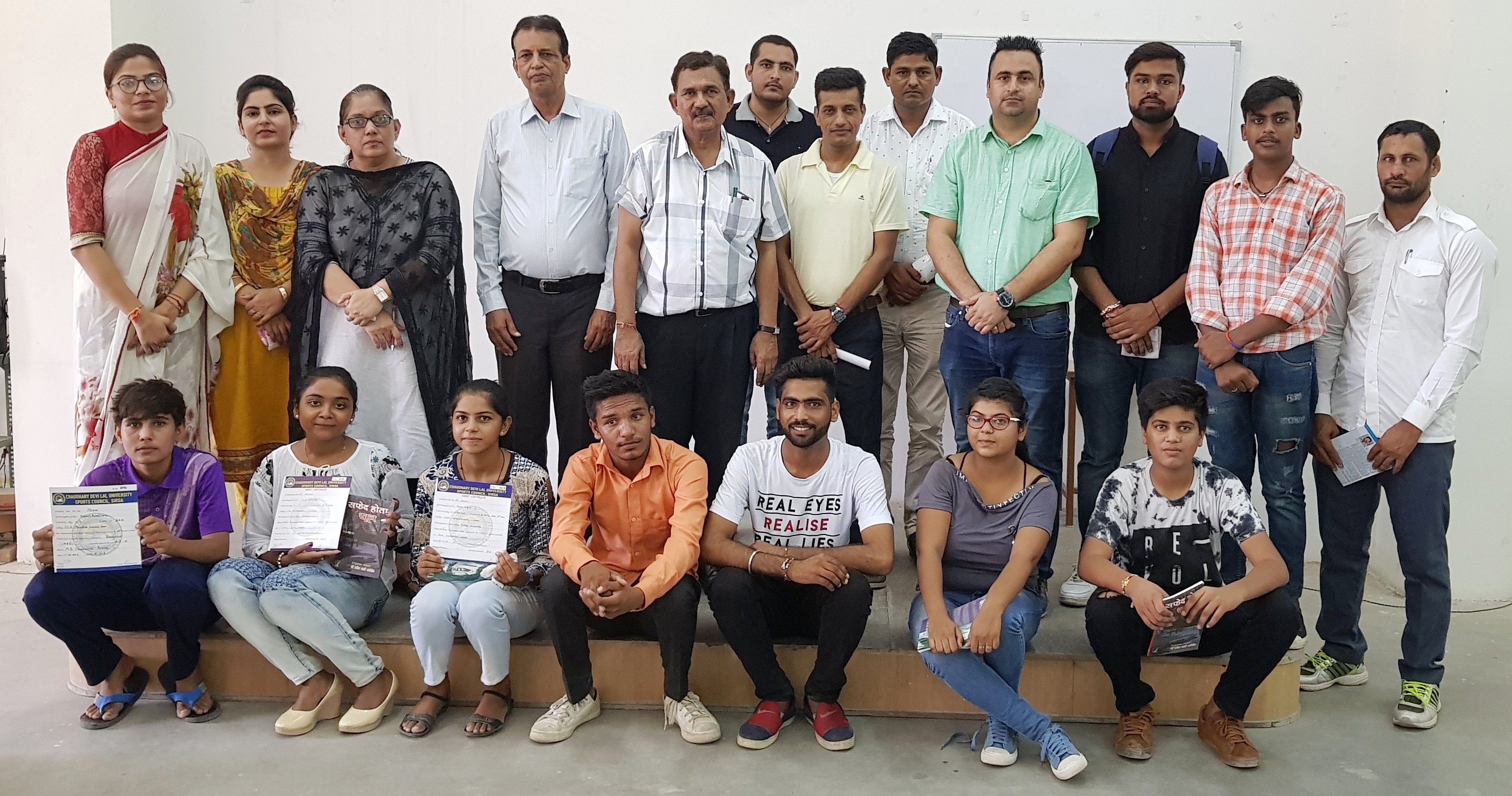 Celebration of International Sports day by Quiz Competition
JCD Memorial College organized a Quiz Competition on the occasion of National Sports Day. Dr. Pradeep Sharma, 'Snehi,' the principal of the college, attended the program as the main speakers and the special guest.
He introduced the importance of sports to various players and their life and cultivated knowledge of the students. This competition was managed jointly by JCDV Sports Officer Mr. Amrik Singh Gill and Assistant Professor Ashok Singh.
जेसीडी मैमोरियल कॉलेज में राष्ट्रीय खेल दिवस के अवसर पर खेल सम्बन्धी प्रश्रोत्तरी प्रतियोगिता का आयोजन
विद्यार्थियों ने हॉकी के जादूगर को किया नमन, अपने सामान्य ज्ञान कौशल को प्रदर्शित करके वाहवाही लूटी
जेसीडी विद्यापीठ में स्थापित मैमोरियल कॉलेज में राष्ट्रीय खेल दिवस के उपलक्ष्य में एक प्रश्नोत्तरी प्रतियोगिता का आयोजन किया गया, जिसमें मुख्य वक्ता तथा विशिष्ट अतिथि के तौर पर महाविद्यालय के प्राचार्य डॉ.प्रदीप शर्मा 'स्नेही' द्वारा उपस्थित होकर विद्यार्थियों का हौंसलाफजाई की गई। उन्होंने खेलों का महत्व विभिन्न खिलाडिय़ों व उनके जीवन से परिचित करवाया तथा विद्यार्थियों का ज्ञान संवर्धन किया। इस प्रश्रोत्तरी प्रतियोगिता का आयोजन जेसीडी विद्यापीठ के स्पोर्ट्स अधिकारी श्री अमरीक सिंह गिल एवं सहायक प्रोफेसर अशोक सिंह की संयुक्त अध्यक्षता में किया गया था। इस अवसर पर विभिन्न श्रंखलाओं के अन्तर्गत विद्यार्थियों से खेलों से सम्बन्धित विभिन्न प्रकार के प्रश्न पूछे गए। इस प्रतियोगिता में हिस्सा लेने वाले सभी विद्यार्थियों ने अपने-अपने सामान्य ज्ञान कौशल का बेहतर प्रदर्शन किया।
इस मौके पर बतौर मुख्य वक्ता अपने संबोधन में सर्वप्रथम सभी खेलप्रेमी विद्यार्थियों को डॉ.प्रदीप स्नेही ने हॉकी के जादूगर ध्यानचंद के जन्मदिवस की बधाई देते हुए बताया कि आज का दिन खास इसलिए भी है क्योंकि इसको ध्यानचंद जी हॉकी खिलाड़ी की याद में राष्ट्रीय खेल दिवस के रूप में मनाया जाता है। उन्होंने अपने उत्साह पूर्ण भाषण में सभी को संबोधित करते हुए कहा कि खेल हमारे जीवन में अनुशासन व आत्मविश्वास का सूत्रपात करते हैं। जिससे विद्यार्थी व खिलाड़ी जीवन में सभी मुसीबतों का सामना करते हुए कामयाबी के नए सपनों में ऊँचाइयों को आसानी से छू सकता है। डॉ.स्नेही ने विद्यार्थियों से आह्वान किया कि वे अपने शरीर एवं मस्तिष्क को स्वस्थ रखने के लिए किसी न किसी खेल को अवश्य अपनाएं।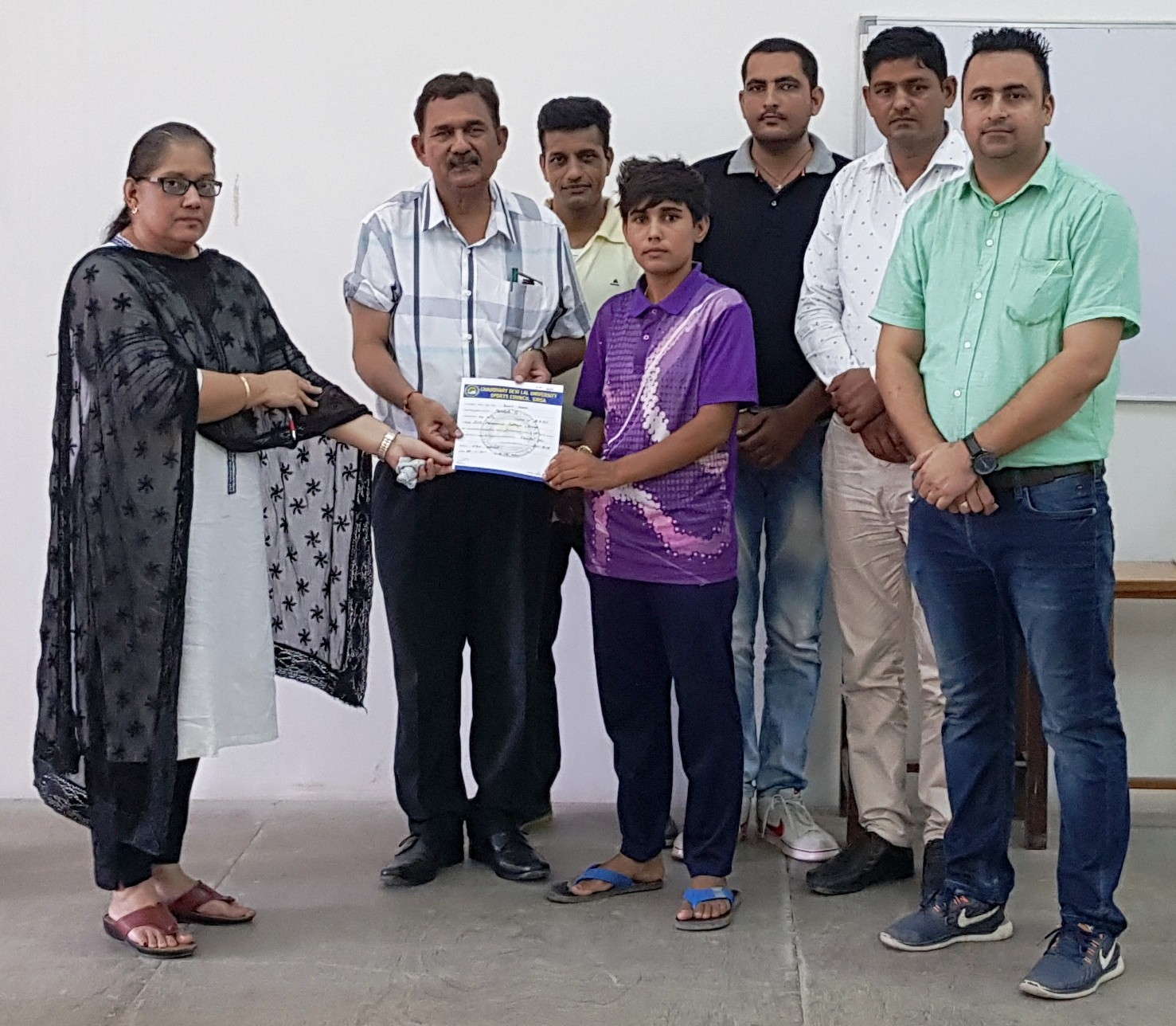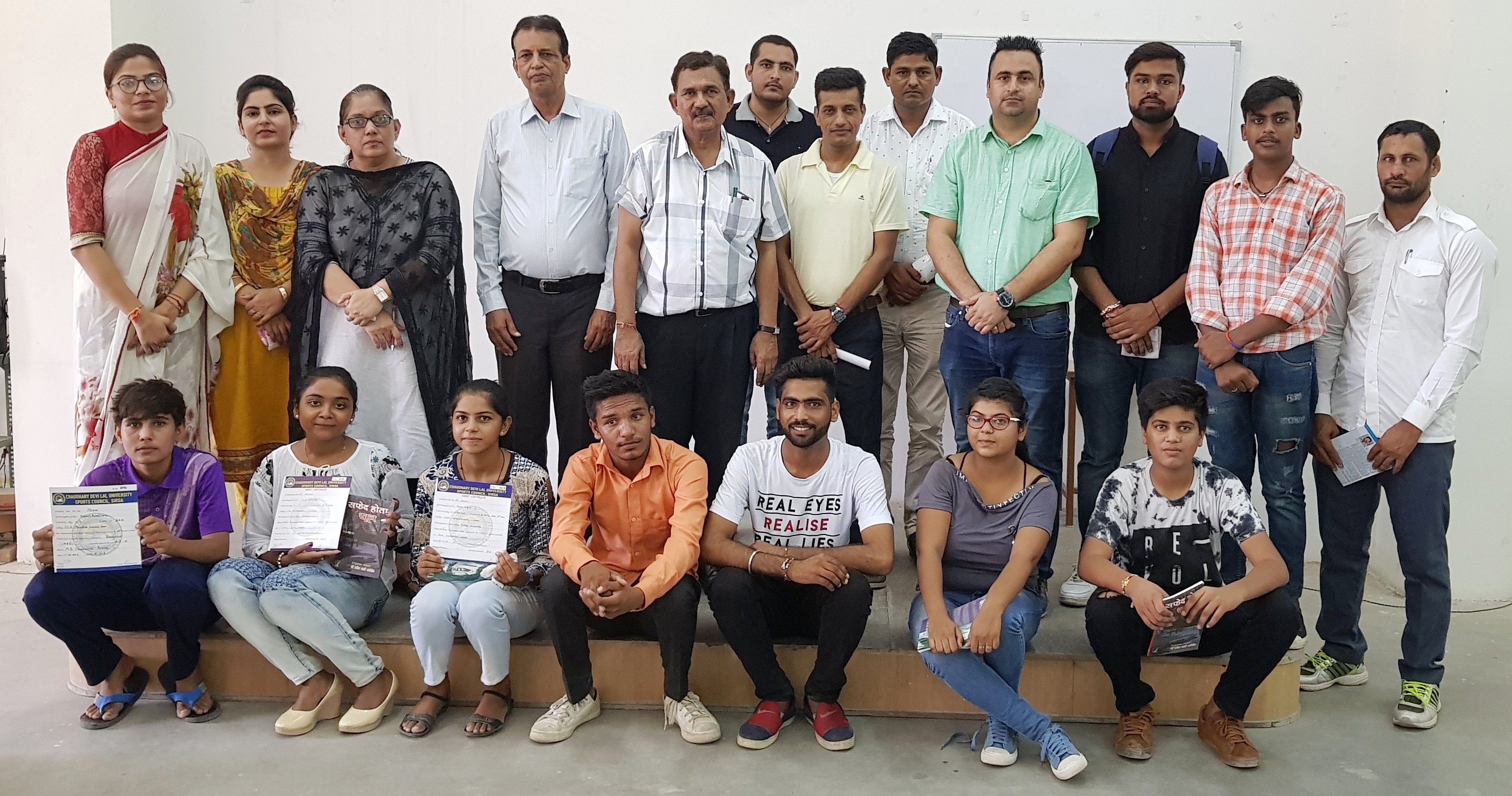 इस कार्यक्रम के आयोजन के लिए जेसीडी विद्यापीठ के प्रबंधन समन्वयक इंजी.आकाश चावला ने खेल अधिकारी तथा सभी विद्यार्थियों को ध्यानचंद जी के जन्मदिवस की बधाई प्रेषित करते हुए उनके द्वारा खेलों में किए गए सराहनीय कार्यों से शिक्षा हासिल करके बेहतर प्रदर्शन करने का आह्वान किया। उन्होंने कहा कि जेसीडी विद्यापीठ में सभी खेलों के मैदान उपलब्ध है इसीलिए विद्यार्थी किसी न किसी खेल को अपनाकर यहां अपनी तैयारी करके विश्वविद्यालय एवं राज्य स्तर पर ही नहीं अपितु राष्ट्रीय स्तर पर अपनी पहचान कायम करें ताकि उनको सफलता हासिल हो सके।
जिसमें सभी विद्यार्थियों ने बढ़-चढ़कर भाग लिया इस प्रश्रोत्तरी प्रतियोगिता में बलकरण सिंह, अभय, विजेता, लक्ष्य, पिंकी, मेधा, यश, जितेन्द्र, इंद्रजीत व गुरप्रीत अपने बेहतर प्रदर्शन के माध्यम से विजेता बने। विजेता विद्यार्थियों को पुरस्कार प्रदान करके सम्मानित किया गया। इस अवसर पर कला संकाय से डॉ.पूनम पूनियां, डॉ.इस्टप्रीत, इंद्रजीत बिश्रोई, पूनम वर्मा, किरण वर्मा, अमनीत कौर, जसलीन कौर, सोमवीर, अभय सिंह व विजय इत्यादि प्राध्यापकगणों के अलावा अन्य स्टाफ सदस्य के अलावा समस्त विद्यार्थीगण भी मौजूद रहे। इसके अंत में मेजर ध्यानचंद को नमन करते हुए महाविद्यालय के सभी विद्यार्थियों ने खेलों में बढ़-चढ़कर भाग लेने की शपथ ली।