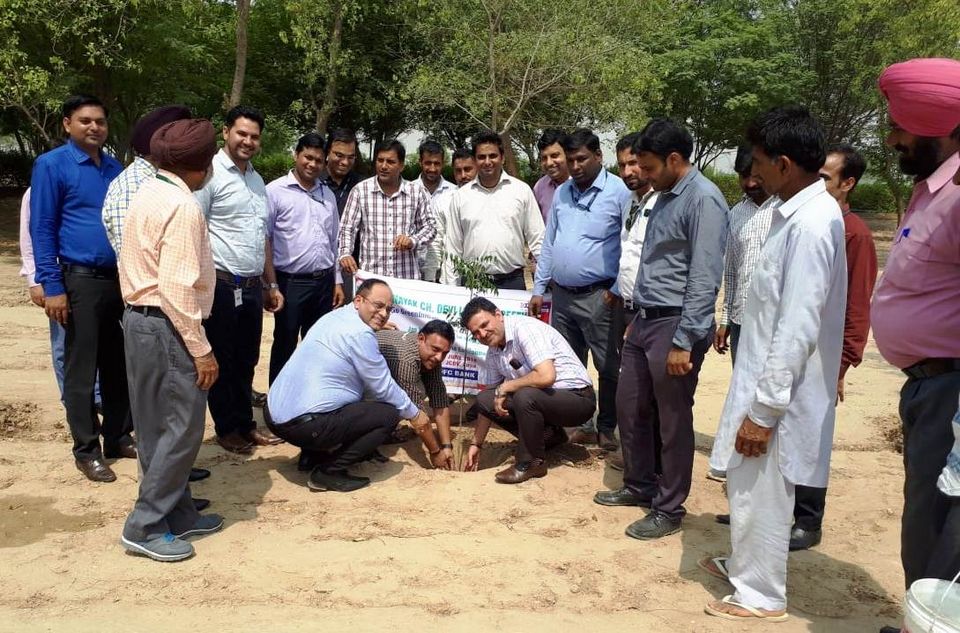 Tree Plantation on the occasion of World Environment Day – JCDV, Sirsa
Planting program was organized under the aegis of HDFC Bank Sirsa under the auspices of World Environment Day at JCD University, which was inaugurated by JCD Vidyapeeth's Management Coordinator, Mr. Akash Chawla, and Registrar Mr. Sudhanshu Gupta as Chief Minister, by placing a plant in his hands.
On this occasion, HDFC Bank Branch Manager Ravi Kakad and Regional Manager Anil Sethi attended as special guests. On this occasion the plants were planted by the officials of various colleges of JCD University, other officials of JCD and students and staff members with their hands.
जेसीडी विद्यापीठ में विगत दिवस विश्व पर्यावरण दिवस के उपलक्ष्य में एचडीएफसी बैंक सिरसा के तत्वावधान में पौधारोपण कार्यक्रम आयोजित किया गया, जिसका शुभारंभ जेसीडी विद्यापीठ के प्रबंधन समन्वयक इंजी.आकाश चावला एवं रजिस्ट्रार श्री सुधांशु गुप्ता द्वारा बतौर मुख्यातिथि स्वयं के हाथों एक पौधा लगाकर किया गया। वहीं इस मौके पर एचडीएफसी बैंक के ब्रांच मैनेजर रवि क्ककड़ एवं रिजनल मैनेजर अनिल सेठी ने विशिष्ट अतिथि के तौर पर शिरकत की। इस अवसर पर जेसीडी विद्यापीठ के विभिन्न कॉलेजों के प्राचार्यगण, जेसीडी के अन्य अधिकारियों एवं विद्यार्थियों व स्टाफ सदस्यों द्वारा भी अपने-अपने हाथों से पौधे रोपित किए गए।
इस मौके पर उपस्थितजनों को अपने संबोधन में इंजी.आकाश चावला एवं श्री सुधांशु गुप्ता ने कहा कि हमारा लक्ष्य जेसीडी विद्यापीठ सहित सिरसा जिला को हरियाली को ओर अधिक बढ़ाने हेतु अधिक से अधिक पौधे लगाकर वातावरण को स्वच्छ बनाने का है, जिस पर हम सदैव खरा उतरते हैं। उन्होंने कहा कि पेड़-पौधों का हमारे जीवन में बहुत महत्व है तथा यह हमें प्रकृति को हरा-भरा बनाने व स्वच्छ रखने हेतु सहायक सिद्ध होते हैं इसलिए हमें अपने जीवनकाल में एक पौधा अवश्य लगाना चाहिए तथा उसे उचित देखभाल करते हुए पेड़ बनाना चाहिए ताकि उसका उपयोग हमारी आने वाली पीढिय़ां कर सकें। उन्होंने इस मौके पर समस्त मालियों का धन्यवाद करते हुए कहा कि यह आपकी मेहनत से ही संभव हो पाया कि आज जेसीडी विद्यापीठ का सम्पूर्ण कैम्पस इतना हरा-भरा है तथा आगे भी आप अथक मेहनत करके इन पौधों को पेड़ बनाने के लिए प्रयास करेंगे ताकि इन पर लगने वाले फल लोग खा पाएं व इनकी छाया समस्त लोगों को शकुन प्रदान कर सकें। उन्होंने कहा कि वर्तमान समय में वाहनों की संख्या बढऩे तथा अनेक प्रकार के प्रदूषणों के कारण वातावरण अस्वच्छ हो चुका है जिसे स्वच्छ बनाने हेतु पौधे लगाना अनिवार्य है इसलिए हमें प्रत्येक स्थान पर संभव हो सके तो जहां पर पौधे नहीं लगे हैं वहां पर भी इन्हें लगाना चाहिए तथा देखभाल करनी चाहिए ताकि यह आगे चलकर छांव प्रदान करने के लिए पेड़ बन सकें ।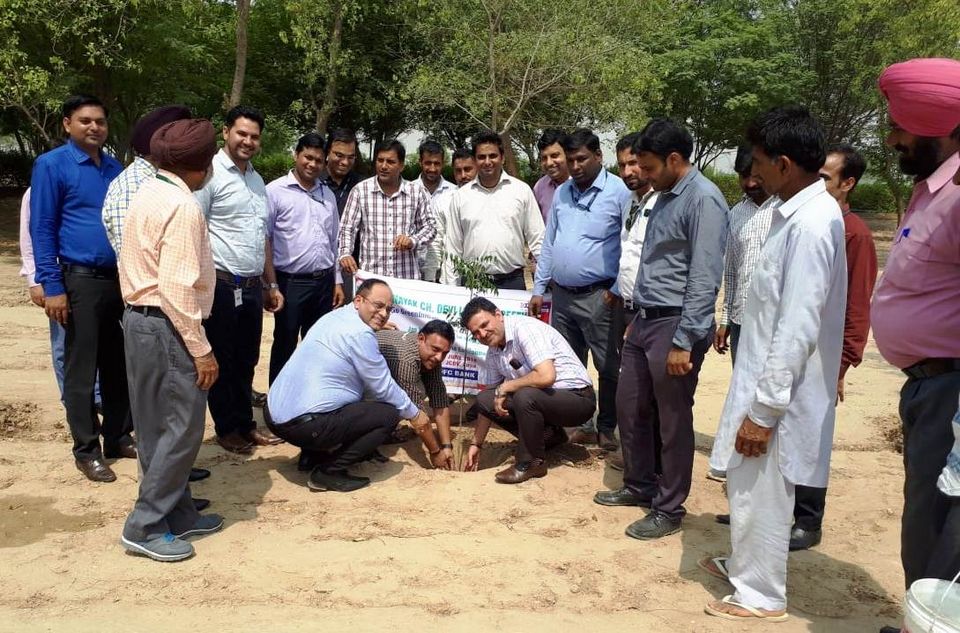 इस मौके पर अपने संबोधन में रवि कक्कड़ एवं अनिल सेठी ने सर्वप्रथम जेसीडी विद्यापीठ की प्रबंधन समिति का इस कार्य हेतु सहयोग करने के लिए आभार प्रकट करते हुए कहा कि केवल पौधा लगा देने मात्र से ही पेड़ नहीं बनता है उसकी बेहतर परवरिश तथा समय-समय पर उसकी उचित देखभाल की भी आवश्यकता होती है, जिसमें यह संस्थान खरा उतरेगा हमें यह आशा है। उन्होंने सभी से आह्वान किया कि हमें सामाजिक उत्सवों, शादी-विवाह, जन्मदिवस तथा अन्य मौकों पर एक पेड़ अवश्य लगाना चाहिए ताकि इससे पौधारोपण को बढ़ावा मिल सकें और हमारी प्रकृति स्वच्छ तथा हरी-भरी हो सके।
इस अवसर पर एचडीएफसी बैंक से कुलविन्द्र सिंह, सुनील वर्मा, राजेश कुमार तथा कृषि विभाग सिरसा से सुरेश कुमार एवं प्रदीप दुहन के अलावा जेसीडी विद्यापीठ के विभिन्न कॉलेजों के प्राचार्यगण, अधिकारीगण, कॉलेजों के स्टाफ सदस्यों एवं विद्यार्थियों ने भी अपना-अपना एक पौधा लगाया तथा संकल्प लिया कि वे इस पौधे को पेड़ बनने तक इसकी उचित देखभाल करेंगे।