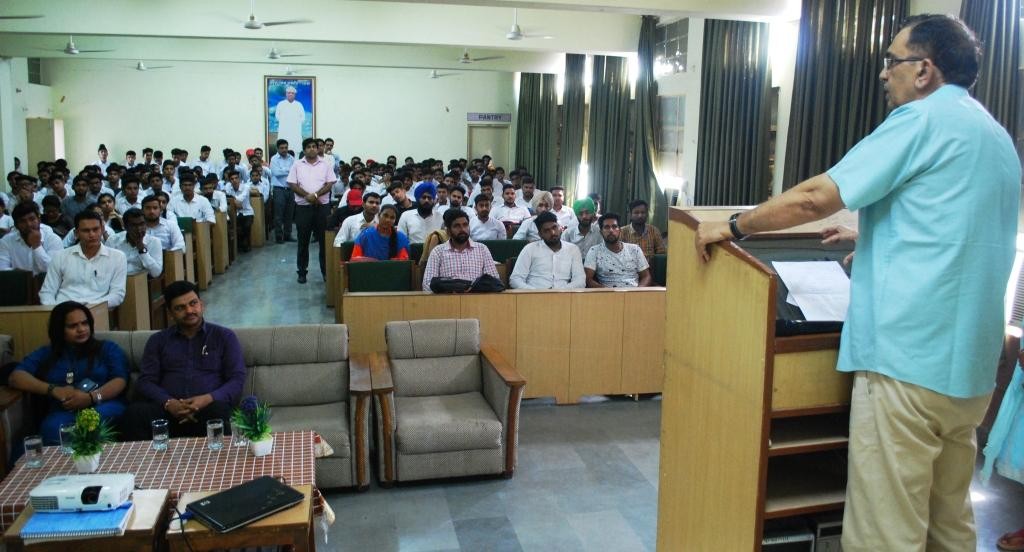 Extension Lecture held in JCDM College of Pharmacy on the occasion of World Pharmacist Day
जेसीडी फार्मेसी कॉलेज में विश्व फार्मासिस्ट दिवस पर एक दिवसीय विशेषज्ञ व्याख्यान आयोजित
वर्तमान में फार्मेसी के क्षेत्र में रोजगार की अपार संभावनाए, विद्यार्थी रहेंं अपडेट :राजीव शर्मा
On the occasion of World, Pharmacist Day, Mr. Rajiv Sharma, Director, Corporate, Skat Idel Famecia Limited, Chandigarh shared his experience as a special guest at the JCDM Pharmacy College, Sirsa. On this occasion, Management Coordinator of JCDV, Sirsa, Dr. Akash Chawla and Academic Director Dr.R.R.Malik and the program were also present. The program was presided over by Dr. Anupama Setia, the Principal of JCMD Pharmacy College. In this program, principals, officers & other staff of various colleges of JCD Vidyapeeth were also present.
Dr. R.R. Malik said that the student should keep in mind that his use of medicines in his or her home or around him should be used only after examining his quality and expiry date.
Dr. Rajiv Shrma also focused on several important points of the pharma industry, saying that within two decades the pharmacy has become amazing in the field in the education sector.
This special lecture was conducted under the supervision of Dr. Pradip Kamboja of JCDM Pharmacy College.
जेसीडी विद्यापीठ में स्थापित फार्मेसी कॉलेज में विश्व फार्मासिस्ट दिवस के उपलक्ष्य में स्काट इडील फामेशिया लिमिटेड चंडीगढ़ के निदेशक कापोरेट श्री राजीव शर्मा ने बतौर मुख्यातिथि के रूप में उपस्थित होकर कार्यक्रम में अपना अनुभव सांझा किया। वहीं इस कार्यक्रम में विशेष रूप से जेसीडी विद्यापीठ के प्रबंधन समन्वयक इंजी.आकाश चावला एवं शैक्षणिक निदेशक डॉ.आर.आर.मलिक ने शिरकत की तथा इस कार्यक्रम की अध्यक्षता फार्मेसी कॉलेज की प्राचार्या डॉ.अनुपमा सेतिया द्वारा की गई। इस कार्यक्रम में जेसीडी विद्यापीठ के विभिन्न कॉलेजों के प्राचार्यगण, अधिकारीगण एवं अन्य लोग भी मौजूद रहे।
इस अवसर पर सर्वप्रथम डॉ.आर.आर.मलिक ने मुख्यातिथि एवं अन्य वक्ताओं का स्वागत करते हुए उनकी उपलब्धियों से विद्यार्थियों एवं स्टाफ सदस्यों को अवगत करवाया। वहीं उन्होंने अपने संबोधन में कहा कि आज की पीढ़ी बिना दवा स्वस्थ नहीं है क्योंकि आज पौराणिक काल का खानपान एवं व्यवहार परिवर्तित हो गए हैं, जिसके चलते रोग बढ़ रहे हैं। उन्होंने कहा कि विद्यार्थी इस बात को ध्यान रखें कि उनके घरों में या उनके आसपास कहीं दवा का उपयोग उसकी गुणवत्ता एवं एक्सपायरी डेट की जांच करने उपरांत ही उसका प्रयोग हो। यह जरूरी है कि विद्यार्थी अपनी पढ़ाई के साथ-साथ ही नवीनतम तकनीकों का ज्ञान प्राप्त कर लें ताकि उन्हें ऐसी परेशानियों का सामना ना करना पड़े। डॉ.मलिक ने कहा कि हमारा उद्देश्य विद्यार्थियों को शिक्षा के पश्चात् बेहतर रोजगार मुहैया करवाना तथा सफलता प्रदान करना है, जिसके लिए हम सभी कृतसंकल्प है। उन्होंने अपने संबोधन में सभी अतिथियों एवं वक्ताओं का महत्वपूर्ण जानकारी प्रदान करने के लिए आभार प्रकट किया। उन्होंने कहा कि निकट भविष्य में भी हम ऐसे कार्यक्रमों का आयोजन करके विशेषज्ञों को समस्त विद्यार्थीगण से मुखातिब करते रहेंगे ताकि उन्हें नवीनतम जानकारी हासिल हो सके और वह बेहतर विकल्प चयन करके सफलता हासिल कर सकें।
Extension Lecture held in JCDM College of Pharmacy on the occasion of World Pharmacist Day – 29/09/2018

See images »
इस सेमिनार में मुख्यातिथि एवं वक्ता के रूप में श्री राजीव शर्मा ने भविष्य में दवाओं के विकास एवं वितरण का बदलता परिदृश्य विषय के बारे में विस्तारपूर्वक जानकारी प्रदान की। उन्होंने फार्मा इंडस्ट्री के अनेक महत्वपूर्ण बिंदुओं पर भी ध्यान केन्द्रित करते हुए बताया कि दो दशक में ही फार्मेसी शिक्षा क्षेत्र में आश्चर्यजनक बन गया है। वहीं उन्होंने बताया कि किसी भी दवा के प्रयोग से पूर्व उसके इस्तेमाल की अवधि अवश्य जांच करें तथा उससे होने वाले हानि-लाभ की भी जानकारी हासिल करें तथा हो सके तो बेहतर चिकित्सक से सलाह करने उपरांत ही किसी दवा का उपयोग करें ताकि आपको उस रोग से निजात मिल सके। उन्होंने कहा कि वर्तमान में फार्मेसी का क्षेत्र रोजगार के लिए एक बेहतर विकल्प बन रहा है तथा प्रत्येक युवा इस ओर आकर्षित हो रहा है।
इस विशेषज्ञ व्याख्यान का आयोजन जेसीडी फार्मेसी कॉलेज के डॉ.प्रदीप कम्बोज की देखरेख में किया गया। इस कार्यक्रम के अंत में मुख्यातिथि एवं अन्य को स्मृति चिह्न प्रदान करके सम्मानित किया गया। इस मौके पर जेसीडी फार्मेसी कॉलेज के स्टाफ सदस्यो के अलावा समस्त विद्यार्थीगण एवं अन्य गणमान्य लोग उपस्थित रहे।