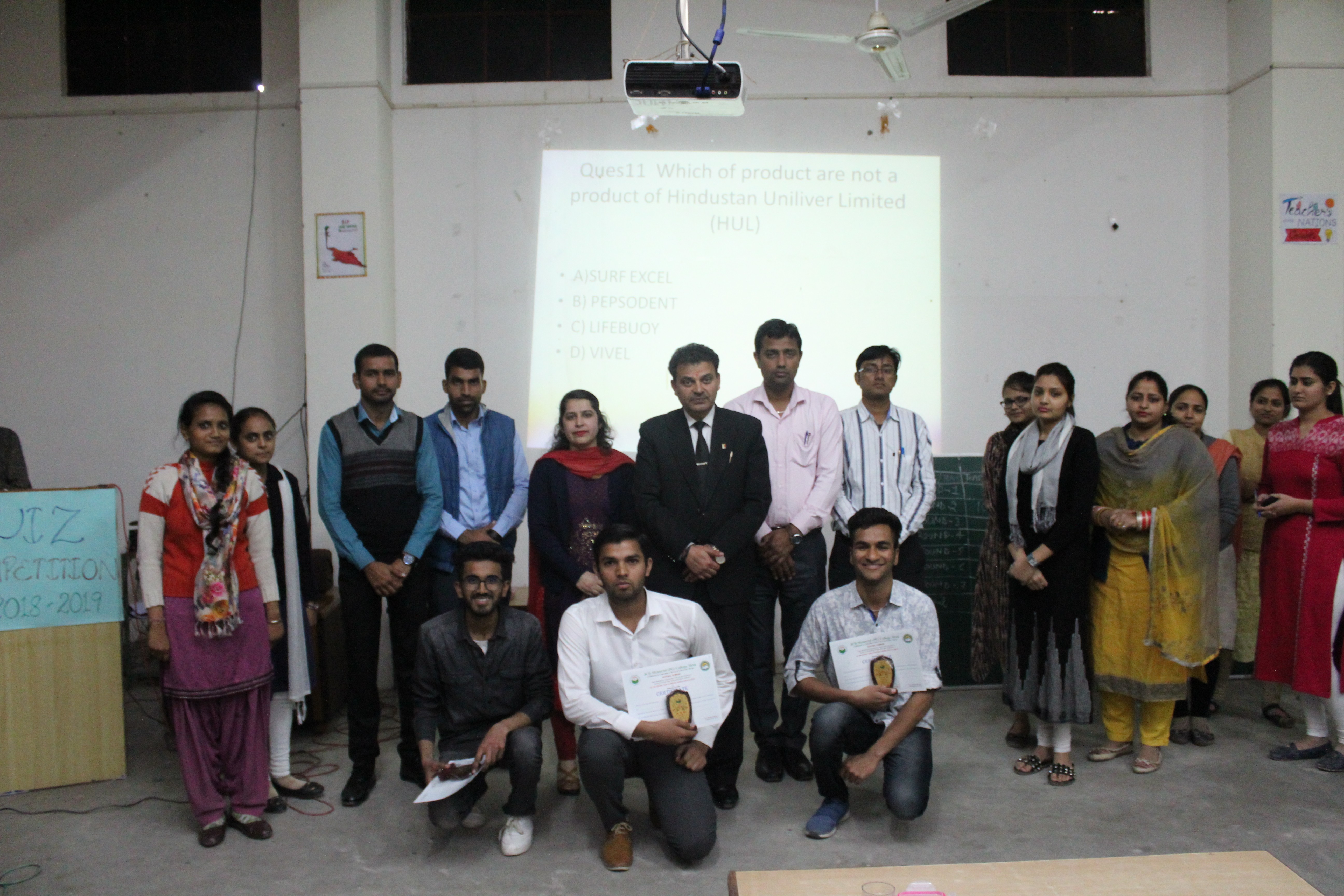 Quiz Competition by Commerce Department – JCD Memorial PG College, Sirsa
जेसीडी मैमोरियल कॉलेज के वाणिज्य विभाग द्वारा प्रश्रोतरी प्रतियोगिता आयोजित
दीक्षिता, अनीश और अपूर्व की टीम बनी विजेता, विद्यार्थियों ने लिया बढ़-चढ़कर इसमें हिस्सा
जेसीडी विद्यापीठ में स्थापित मैमोरियल कॉलेज के वाणिज्य विभाग द्वारा सभी विद्यार्थियों के लिए प्रश्रोतरी प्रतियोगिता का आयोजन किया गया, जिसमें कॉलेज के प्राचार्य डॉ.जयप्रकाश बतौर मुख्यातिथि उपस्थित हुए तथा इसमें जेसीडी शिक्षण महाविद्यालय के प्राचार्य डॉ.राजेन्द्र कुमार ने विशेष रूप से शिरकत की। इस कार्यक्रम का आयोजन विभागाध्यक्ष अनीता मक्कड़ एवं महावीर की देखरेख में करवाया गया था, जिसमें वाणिज्य, बैंकिंग एवं वित्तिय इत्यादि विषयों से आधारित प्रश्रों का चयन किया गया था। वहीं इस मौके पर उपस्थित दर्शक विद्यार्थियों से भी प्रश्र पूछे गए।
Quiz Competition by Commerce Department – JCD Memorial College, Sirsa – 15/03/2019

See images »
इस अवसर पर विद्यार्थियों एवं आयोजकों को संबोधित करते हुए प्राचार्य डॉ.जयप्रकाश ने विद्यार्थियों के सामान्यज्ञान में वृद्धि करने एवं विभिन्न मुख्य मुद्दों पर आधारित जेसीडी मैमोरियल कॉलेज द्वारा आयोजित प्रश्रोतरी प्रतियोगिता में वाणिज्य विभाग के विद्यार्थियों द्वारा पूर्ण उत्साह एवं जोश के साथ हिस्सा लिया गया, जिसमें सात टीमों में 21 विद्यार्थियों द्वारा हिस्सा लिया गया था। उन्होंने कहा कि हम सदैव यहीं प्रयास करते रहते हैं कि विद्यार्थियों को ऐसे कार्यक्रमों के माध्यम से प्रेरित किया जा सके तथा जागरूकता लाकर बेहतर ज्ञान प्रदान किया जा सके।
इस प्रश्रोत्तरी प्रतियोगिता में निर्णायक मण्डल द्वारा अपना निर्णय सुनाते हुए टीम नं.3 के विद्यार्थियों दीक्षिता, अनीश एवं अपूर्व को प्रथम घोषित किया, वहीं टीम नं.6 के सागर, हिमांशु एवं पुनीत ने द्वितीय तथा टीम नं.7 के अक्षय, सुनील और सौरभ ने तृतीय स्थान अर्जित किया। सभी विजेता प्रतिभागियों को प्राचार्य डॉ.जयप्रकाश, डॉ.राजेन्द्र कुमार एवं अन्य प्राध्यापकगणों द्वारा पुरस्कार एवं प्रमाण-पत्र प्रदान करके सम्मानित किया गया।
इस मौके पर जेसीडी विद्यापीठ की प्रबन्ध निदेशक डॉ.शमीम शर्मा ने विजेता प्रतिभागियों को बधाई देते हुए कहा कि प्रश्रोतरी प्रतियोगिता के माध्यम से हमारा मानसिक विकास होता है, इसलिए ऐसे आयोजन काफी हद तक विद्यार्थियों के लिए लाभदायक साबित होते हैं। वहीं उन्होंने कहा कि विद्यार्थी सामान्य ज्ञान एवं अन्य विषयों से सम्बन्धित नवीन जानकारियां भी प्रश्रोतरी एवं अन्य प्रतियोगिताओं के माध्यम से हासिल कर सकते हैं, जो प्रतियोगी परीक्षाओं में काफी लाभ प्रदान करती है।
इस अवसर पर प्राध्यापक दीपक कुमार, सविता तथा वाणिज्य विभाग के सभी विद्यार्थीगण उपस्थित रहे।
English Version:
JCD Memorial PG College Organized a Quiz competition Program on Friday. Anita Makkar and Mahavir supervised the program. Dr. Jai Prakash, Principal of the college, was the chief guest.
Dikshita, Anish and Apoorva, students of Team N. 3 gets First position, Sagar, Himanshu and Puneet from Team No. 6, were Second position and Akshay, Sunil and Saurabh from Team No. 7 earned the Third position. All the winning participants were awarded prizes and certificates by the Principal Dr. Jai Prakash, Dr. Rajendra Kumar and other faculty members.
On this occasion, Dr. Shamim Sharma, Managing Director of JCD Vidyapeeth congratulated the winner participants and said that our mental development is through the acclaimed competition. Hence such programs prove beneficial for students.
#JCDV #JCDMEMPG #QUIZCOMPETITION #SIRSA